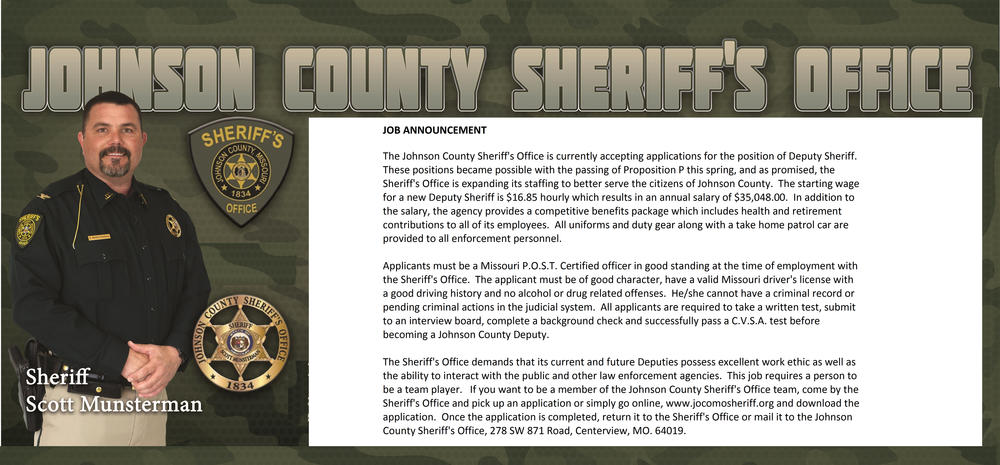 Job Application
Job Announcement
The Johnson County Sheriff's Office is currently accepting applications for the position of Deputy Sheriff. These positions became possible with the passing of Proposition P this spring, and as promised, the Sheriff's Office is expanding its staffing to better serve the citizens of Johnson County. The starting wage for a new Deputy Sheriff is $16.85 hourly which results in an annual salary of $35,048.00. In addition to the salary, the agency provides a competitive benefits package which includes health and retirement contributions to all of its employees. All uniforms and duty gear along with a take home patrol car are provided to all enforcement personnel.
Applicants must be a Missouri P.O.S.T. Certified officer in good standing at the time of employment with the Sheriff's Office. The applicant must be of good character, have a valid Missouri driver's license with a good driving history and no alcohol or drug related offenses. He/she cannot have a criminal record or pending criminal actions in the judicial system. All applicants are required to take a written test, submit to an interview board, complete a background check and successfully pass a C.V.S.A. test before becoming a Johnson County Deputy.
The Sheriff's Office demand that its current and future Deputies possess excellent work ethic as well as the ability to interact with the public and other law enforcement agencies. This job requires a person to be a team player. If you want to be a member of the Johnson County Sheriff's Office team, come by the Sheriff's Office and pick up an application or simply go online, www.jocomosheriff.org and download the application. Once the application is completed, return it to the Sheriff's Office or mail it to the Johnson County Sheriff's Office, 278 SW 871 Road, Centerview, MO 64019.