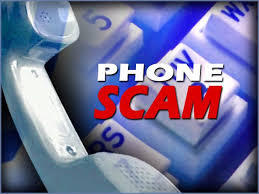 We have received several calls from Johnson County residents reporting they received a telephone call from a person identifying himself as Johnson County Chief Deputy David Rose. The person is telling the resident they have an active warrant for failure to appear for Jury Duty. The imposter also tells the resident to bring a specified amount of money to the old Sheriff's Office location on Market Street in Warrensburg, to avoid being arrested.
If you receive a telephone call from anyone telling you or your loved ones that there is an active warrant for their arrest and to bring money to a specified location to avoid being arrested, HANG UP and have no further contact with them. If you want to report the incident to authorities, please feel free to contact the Sheriff's Office. DO NOT, under any circumstances, attempt to meet the caller or make any arrangements to send money to them. The Sheriff's Office does not contact people and tell them they have a warrant. Law enforcement will make in-person contact with you if you have a warrant or need to serve you with some type of civil process. They will never call you on the phone and tell you to bring money to a location to meet them.
These types of SCAMS are very dangerous. The predators are constantly preying on people all over the country. BE ALERT and Cautious and QUESTION everyone who tries to scare or intimidate you into doing something like bringing or sending moneys to them. This situation is very similar to the IRS Tax scam we have seen during the past two years. Victims receive a telephone call from someone identifying themselves as a Federal Officer and there is an active warrant for their arrest for not paying back taxes. They tell the victims that if they send money to them on a Green Dot card or a prepaid cash card, they can avoid being arrested. Over the past few years, many people, especially the elderly have fallen prey to this SCAM. As tax season rapidly approaches, this SCAM will start again.
Scott Munsterman